News
The dollar exchange rate rises to 75.15 rubles
The dollar exchange rate rises to 75.15 rubles, the yuan - up to 10.83 rubles
The exchange rate of the ruble at the beginning of trading on Wednesday is declining against the dollar , the euro and the yuan: the American currency is currently rising to 75.15 rubles, the European one is up to 79.5 rubles, the Chinese one is trading at 10.83 rubles, follows from the data of the Moscow Exchange.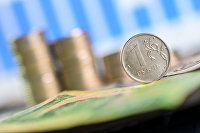 The dollar exchange rate with settlements "tomorrow" at 7.12 Moscow time is growing by 18 kopecks – up to 75.15 rubles, the euro  – by 5 kopecks – up to 79.5 rubles, the yuan is growing by 5 kopecks, up to 10.83 rubles.
The ruble in pairs with foreign currencies has been volatile since the beginning of trading and changed the direction of dynamics several times against the dollar and the euro, while declining against the yuan. The dollar paired with the ruble is trading in the range of 74.71-75.15 rubles, the euro – in the range of 78.82-79.79 rubles, the yuan – in the region of 10.78-10.83 rubles.