News
America's Most Dangerous Man
Tucker Carlson is the most influential voice of the Conservatives - and a threat to democracy.
When it comes to right-wing populism, goodness knows Boris Johnson can't be fooled, and the former British Prime Minister is also very familiar with aggressive tabloid media. But while Johnson was on a recent US tour, even he couldn't believe how America's right-wing cowered in front of Tucker Carlson. "I'm amazed and shocked how many people are afraid of a guy named Tucker Carlson," said the ex-premier. "What's the matter with this guy? All these wonderful Republicans seem kind of scared of him and his perspective."
Even Boris Johnson shakes his head
Johnson continued: "I didn't look at what he was saying. But it surprises me how often he is mentioned again and again. He creates bad ideas and influences how Putin is perceived. That's a catastrophe. It stands for war, aggression, systematic murder, rape and destruction."
Fox News is a force in American politics. The conservative broadcaster brings together far more viewers than all other right-wing media combined. And within Fox News, Tucker Carlson has become the leading voice. That's saying something, because the Murdoch station has never been short of right-wing screamers. Here is just a shortlist: Bill O'Reilly – he had to step down because of sexual harassment – or Glenn Beck or Laura Ingraham and Jugde Jeanine Pirro.
For a long time, Sean Hannity was able to bask in the role of chief ideologue at Fox News. In the meantime, the somewhat stuffy Trump buddy has been dethroned, because while Hannity is still staunchly neoliberal and business-friendly, Carlson has no qualms about big business. He railed against the elite, the "Davos man", and accused them of wanting to set up a global dictatorship. He also attacks Big Tech and woke capitalism head-on and sees himself as an advocate of the little (white) man.
Even the elite of the Republican Party gets its fat from Carlson. Mitch McConnell and Lindsey Graham are regularly insulted. However, representatives of the extreme right wing such as Marjorie Taylor Greene or Matt Gaetz can count on a lot of understanding from the star moderator.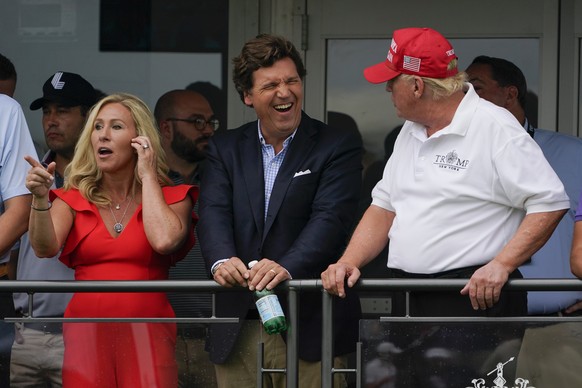 Logically, Carlson is an ardent Putin understander – and is therefore regularly quoted on Russian state television. Almost every day he urges President Joe Biden to take better care of the border with Mexico instead of spending billions defending Ukraine. In addition to Putin, Carlson also worships leading right-wing populists such as Viktor Orban – he even broadcast his show for a whole week from Budapest – and Jair Bolsonaro, Brazil's ousted president.
Now Kevin McCarthy, the Republican Majority Leader in the House of Representatives, has handed Carlson another stick. He has granted him exclusive rights to evaluate approximately 40,000 hours of video footage recorded by Capitol security forces during the events of January 6, 2021.
That McCarthy turned the buck into a gardener is a far understatement. In a three-part series, Carlson has already attempted to support the absurd proposition that the storming of the Capitol was in fact a "false flag" operation by the FBI, and that the vast majority of Capitol stormers were ultimately just patriots who told her the majority peacefully exercised the right to freedom of demonstration. In view of the fact that around 1,000 of these "peaceful patriots" have now been charged with breaching the peace and some have already been convicted, this is a pretty steep thesis.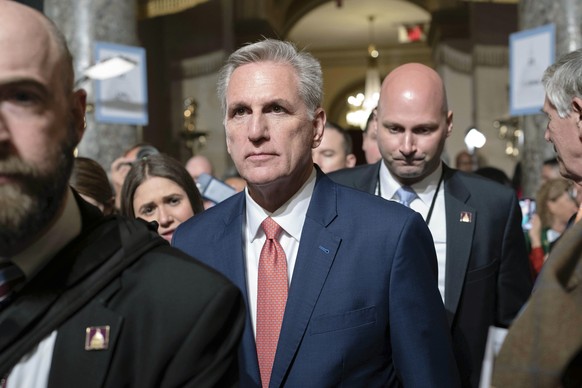 It is also to be feared that Carlson will misuse the extensive video material to set up a counter-thesis to the findings of the committee investigating the events of January 6 and to present the storming of the Capitol as a demonstration that got slightly out of hand. It shouldn't matter to him that he might also betray the security measures of the police.
Tucker Carlson has no moral compass. This is also shown by the internal mails from Fox News. They became widely known after Dominion, a maker of voting machines, filed a $1.6 billion lawsuit against the Murdoch broadcaster. The reason for the lawsuit is the claim, also repeatedly made by Fox News, that these machines had been manipulated in favor of Biden.
The Fox News investigation into the lawsuit revealed that leaders never believed Trump's Big Lie and believed the proponents of this absurd lie, most notably Trump's attorneys Rudy Giuliani and Sidney Powell, to be lunatics. Nevertheless, they repeated their allegations again and again in their programs.
Carlson also played along in this cynical game, even demanding that a reporter who dealt with the facts be dismissed without notice. He doesn't care about the truth, he cares about the company's image and share price.
David French, columnist at The New York Times, is a longtime traditional conservative. He describes Fox News' role as follows: "It's more than a news source. It's where 'Red America' (conservative America) goes for emotional affirmation. For any important event, it goes to Fox News first."