Tech News
The construction site of the future… "Hugh, stop doing somersaults and give me some tools."
Will the day come soon when bipedal humanoid robots will be put into use in the industrial field following the quadrupedal robot dogs that are already active in construction sites?
American robot manufacturer Boston Dynamics has released a new motion video suggesting the future of humanoid robot Atlas. Boston Dynamics was acquired by Hyundai Motor Group at the end of 2020.
In the video titled 'Atlas Gets a Grip', Atlas demonstrates his ability to jump up and throw scaffolding with the work toolbox he needs, following the worker's tablet instructions on a simulated construction site.
In the video, the scene where he throws a toolbox to the target location with both arms like a human when he can't climb any further, and the scene where he picks up a wooden plank and places a scaffolding bridge between the stairs and scaffolding draws attention. This is a practical movement ability that is different from acrobatic movements such as somersaults and parkour that Atlas has shown so far.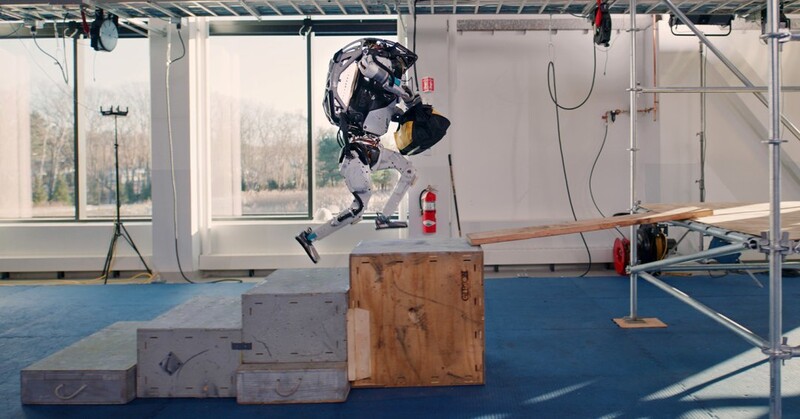 Atlas is running up the stairs with a toolbox after placing a wooden platform. video capture
High-level movements such as 540-degree turning
The Atlas saved the worker the trouble of going down and back up to get the toolbox. Atlas, which debuted in 2013, has finally demonstrated its operational capabilities that can be put into practice after 10 years of technology development.
The new Atlas features claw hands. One fixed finger and another movable finger work together to act as a pincer. The index finger first appeared in a Super Bowl commercial in February of last year when Atlas lifts a large keg.
Boston Dynamics announced that new features such as grabbing a wooden plank and jumping and turning 180 degrees backward, throwing a box while doing a rotational jump, and turning 540 degrees at the final landing motion were added this time.
"Parkour and dance moves have been examples of very extreme interest-driven movements, and we are now working to build research into meaningful manipulations," said Ben Stevens, head of Atlas Control Systems, in a press release. "It is important to us that robots can handle these tasks at the same speed as humans," he added. "This required significant improvements to the control software."
However, humanoid robots are still far from doing the dirty and dangerous jobs for humans, Stevens said. In this respect, Atlas has a strong character as a research platform preparing for the near future.
"There's still a lot of work to do, but it's a glimpse into where it's going," he said. "This is the future of robotics."
Boston Dynamics, which celebrated its 30th anniversary last year, was founded by Professor Mark Leibert, a roboticist at the Massachusetts Institute of Technology. At first, it focused on developing military robots in cooperation with the US Department of Defense. After going through a bank, it was acquired by Hyundai Motor Group.
Currently, along with the humanoid robot Atlas, it is developing three main robots: 'Stretch', a logistics robot, and 'Spot', a robot dog. Unlike Atlas, which is still in the research and development stage, Spot started selling in 2020 and Stretch in 2022.
Senior Reporter Kwak Nopil nopil@hani.co.kr