Tech News
Have you heard of 'Robot Density'? Korea is the highest in the world…
South Korea is late in industrialization, but it is one of the fastest-moving countries in industrial automation.
Korea's industrial robot density entered the four digits for the first time in the world. China's robot density, which is spurring automation investment, has surpassed that of the United States. Robot density is the number of robots per 10,000 workers.
According to the '2022 World Robot Report' recently released by the International Federation of Robotics (IFR), Korea's 2021 industrial robot density recorded 1,000 units. This is an increase of 68 units (7%) from 932 units in 2020, and Korea is the only country in the world where robot density has risen to four digits. Compared to 347 units in 2011, it has increased by about three times in 10 years. A robot density of 1,000 units means that there is one robot deployed for every 10 manufacturing workers.
Korea, which had been ranked first in industrial robot density for eight consecutive years since 2010, lost first place to Singapore in 2018 and 2019, but returned to first place in robot density last year.
The report said, "Korea's world-recognized electronics industry and outstanding automobile industry are its main customers for industrial robots."
The global average robot density was 141 units, an increase of 15 units (12%) from 126 units in 2020. Compared to 69 units in 2015, the number has more than doubled in six years. Korea's robot density is more than seven times the world average.
An increase in robot density has the opposite effect on the economy: lower costs and fewer jobs. This suggests that appropriate policy adjustments may be necessary to minimize the negative impact on the economy in line with fluctuating trends in robot density.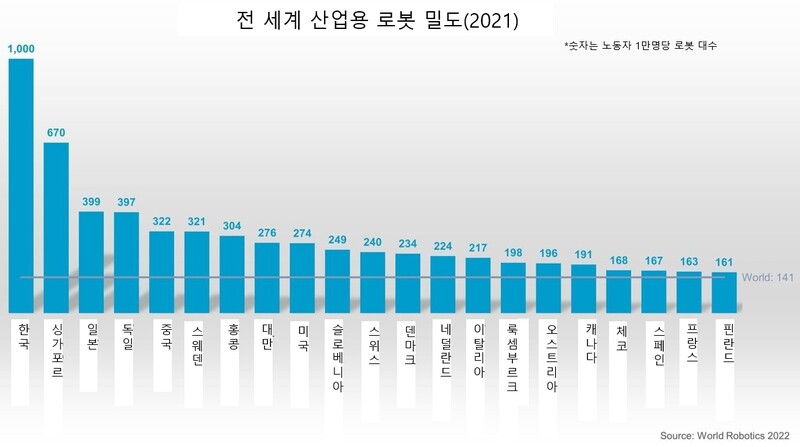 Korea's robot density is more than seven times the global average.
Rapid increase in robots in China as working-age population declines
What is particularly notable in this report is the rapid increase in robots in China, where the working-age population has been declining since the mid-2010s. China's robot density last year was 322 units, overtaking the United States (274 units) and rising to 5th place in the world.
"China is the world's fastest-growing robot market and has been introducing industrial robots globally since 2016," the report said. Last year, the number of industrial robots installed in China reached 243,300, up 44% from the previous year. Chinese robots are mainly made in Japan, Korea and Europe.
Accordingly, China's robot density entered the top 10 from 25th in 2015 to 15th in 2019 and 9th in 209, and this time it joined the top 5.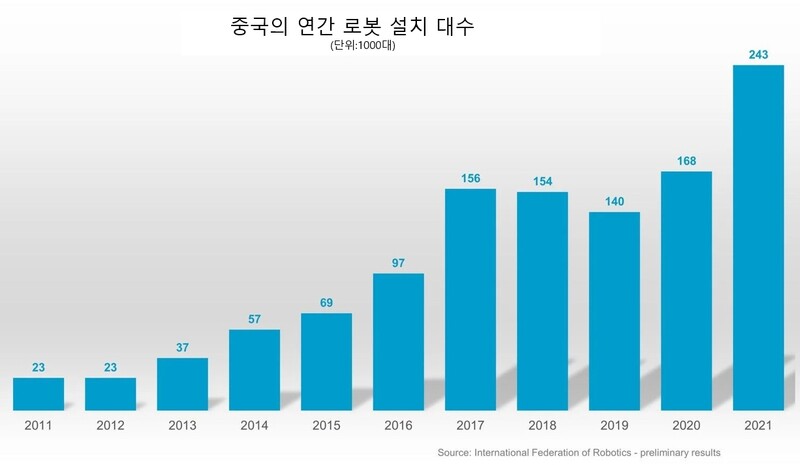 Facing a demographic crisis, China is now the world's largest robot market.
Japan is the number one supplier of robots… 45% market share
The top five countries for robot density worldwide are South Korea, Singapore (670 units), Japan (399 units), Germany (397 units) and China. Japan ranks third in robot density, but ranks first in the world in robot production. Last year, it supplied 45% of global industrial robot demand.
Last year, the number of industrial robot installations worldwide increased by 31%, reaching a record high of 517,385 units. There are 3.5 million robots in operation worldwide.
The report predicted that by the end of this year, 570,000 new units would be installed, up 10 percent from last year.
Senior Reporter Kwak Nopil nopil@hani.co.kr