Tech News
Characters can be entered even without a keyboard… Developed the world's first intelligent electronic skin
A spray-type electronic skin that allows users to input letters with only hand movements without a keyboard has been developed. It is expected to be a promising technology in that there is no need to wear uncomfortable physical devices such as wristbands or wearable gloves.
A joint research team led by KAIST Professor Cho Seong-ho (Department of Computer Science), Seoul National University Professor Ko Seung-hwan (Department of Mechanical Engineering), and Stanford University Professor Jenan Bao developed the world's first intelligent electronic skin and published it in Nature Electronics, an international academic journal in the field of electricity and electronics. announced on the 29th.
Electronic skin is a hard and fixed electronic device made into a flexible and stretchable form like skin. When attached to the human skin, temperature, humidity, and pressure can be sensed without relying on wearable devices, so it can be used for various purposes such as medical care and virtual reality.
However, the electronic skin developed so far is inconvenient due to its large size and inflexibility, and is structurally very complex, so its usability is low.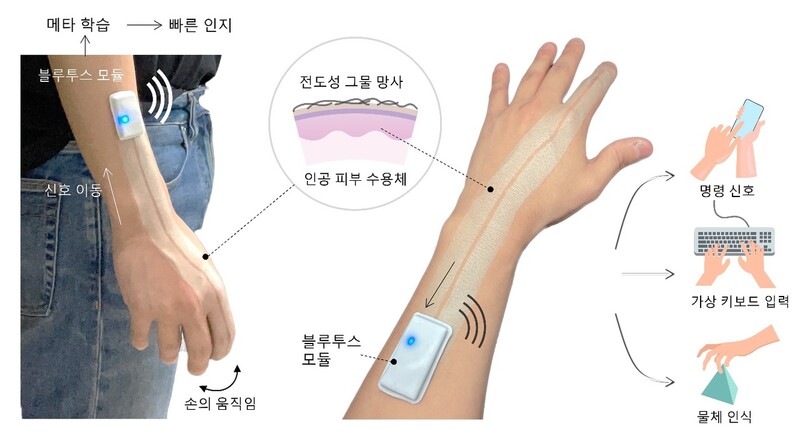 Schematic diagram of intelligent electronic skin. After printing the conductive mesh directly on the user's skin, the Bluetooth module is attached to wirelessly read the signal of the change in electrical conductivity according to the movement of the hand. Provided by KAIST
Learning with artificial intelligence… Various virtual reality platforms available
The research team solved this problem by automatically printing a conductive mesh by spraying silver nanowires with a thickness of 100 nanometers (nm, 1 nanometer = 1 billionth of a meter) that conduct electricity. Conductive mesh is a network structure in which conductive threads are entangled, and it is characterized by maintaining conductivity even when stretched or bent. The research team said that silver nanowires are bio-friendly because they are plated with gold.
When a conductive mesh is printed on the hand, an electrical signal is generated as the mesh stretches according to the movement of the user's hand. At this time, generated information can be transmitted to the outside through the Bluetooth communication device.
The research team then taught the artificial intelligence various electrical signals generated by the electronic skin. The meta-learning technique, which can identify the user's desired intention with only a few iterations of learning, was used for artificial intelligence training.
As a result, the research team announced that they had confirmed through experiments that various tasks can be performed in virtual space just like when directly manipulating a real device with only hand gestures. The research team said, "It was possible to implement various virtual reality platform technologies, such as being able to input letters only with hand gestures without a keyboard, and making the shape of an object appear on the screen just by rubbing an arbitrary object."
The first case of combining electronic skin and artificial intelligence technology
Corresponding author, Seoul National University Professor Koh Seung-hwan said, "Silver nanowires, which are used as conductive mesh materials, can continue to function as long as they are not deliberately rubbed off.
The research team said, "This study is the first case of combining electronic skin and artificial intelligence technology," and expects that it will be widely used in various fields such as games, sports, telemedicine, assistance to the disabled, and robots as well as virtual reality.
Senior Reporter Kwak Nopil nopil@hani.co.kr