Tech News
Foldable electric vehicle developed in Germany
Munich designer Andrea Mocellin has developed a 

foldable, electric vehicle for big cities that

 fits in a larger backpack

The driver lies on the 

Exo-Line

 , brakes and accelerates by hand and steers by shifting his body weight
A Munich designer has developed a foldable electric vehicle that aims to bring its driver back to the basics of a physical driving experience.
Munich, Germany). The Munich designer Andrea Mocellin has developed a foldable, electric vehicle for stressed city dwellers, for which there is no need to look for a parking space at the destination. Dubbed the "Wearable Concept Vehicle" by the developer, the so-called Exo-Line can instead be folded up and taken with you. When folded, the vehicle is about waist-high and fits into a larger backpack.
The main part of the Exo-Line is a spar with a wheel at the end. At the front there are two struts, each with a wheel. In order to use the innovative vehicle, people have to lie on it. The main load is borne by a wider support in the chest area, in which the lithium-ion battery is also integrated. The feet are on pads over the rear wheel while driving.
Driven by a wheel hub motor in the rear wheel
The vehicle is electrically driven by a wheel hub motor in the rear wheel. The rider's hands are located on two handles integrated into the front struts. These are also used to accelerate and brake the Exo-Line. Exo-Line is steered via the two front wheels. However, it is unclear exactly how this works. The project's website only provides indications that the steering takes place via the shifting of body weight.
"When driving, the wheels and cockpit follow the movement of the body and give the driver the feeling of being part of the vehicle."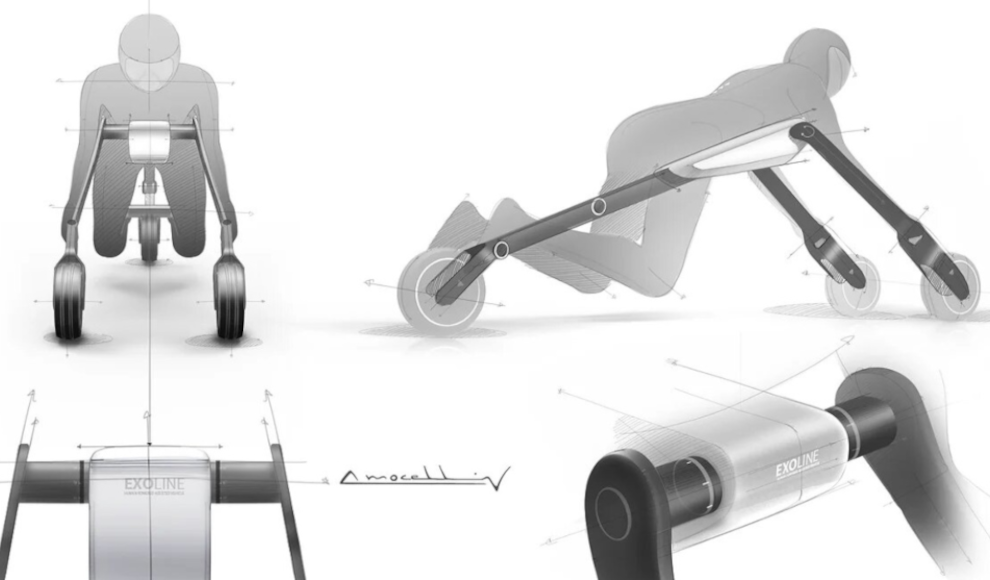 Exo-Line – A highly sporty, portable vehicle
Highly sporty, portable vehicle
On Linkedin , Mocellin describes his development as a "highly sporty, portable vehicle", which was inspired, among other things, by exoskeletons. It is therefore likely that driving the Exo-Line requires a certain sportiness, despite the electric drive.
According to Mocellin, he wanted to create a vehicle that "takes us back to the basics of a physical driving experience. The goal was to minimize the number of components in the vehicle in order to glide quickly over the road and provide a pure sense of freedom and connection with the vehicle by following pure instinct when steering, accelerating and braking."
So far there is only a working prototype of the Exo-Line. Details of its range and speed have not been released. Whether the vehicle will actually go on sale and what price can be expected is also still unknown.