Tech News
Combining technology from Sony and art from Daiei Kadokawa, breaking new ground in virtual production
"Begin demonstration"
 With a signal, the art set from the edge of the studio was brought in front of the large LED display placed in the center of the studio. A set of train seats. Male and female performers sit there. The next moment, an image of a sunflower field shot from a moving vehicle appeared on the LED display. The result is a movie-like scene of a couple looking out from inside a train running through a field of sunflowers with a blue sky ( Fig. 1 ). The reporter witnessed with his own eyes the moment when the real and the virtual intertwined with the art set and LED background images.
 This is Kadokawa Daiei Studio in Chofu City, Tokyo. It is the place where the movie "Tokyo Revengers" released in 2021 was filmed. In this studio, Sony PCL has opened a virtual production * studio for a limited time from January 2023 to March 31, 2023 . The reporter participated in a preview for the press.
*Virtual production: A new video production method in which a huge LED display is placed behind the performer, and CG (computer graphics) video or free-viewpoint live-action video is displayed as the background while filming.
 Sony PCL already has its own virtual production studio at Shimizu Shirakawa BASE in Koto Ward, Tokyo. As far as the specs of the studios established at Kadokawa Daiei Studios are compared, there is not much difference ( Table 1 ).

Table 1 Comparison between Kiyosumi Shirakawa BASE and Kadokawa Daiei Studio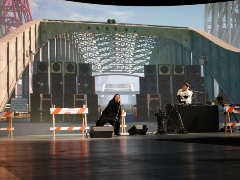 Virtual Production x Live Streaming, Sony's Next-Generation Entertainment
 The Sony Group performed the world's first challenge of virtual production x live distribution. The aim of combining live distribution with virtual production, impressions after live distribution, and future expectations from stakeholders.
2022/10/05
 So why was it necessary to build a new studio at Kadokawa Daiei Studios? This is because the two companies are in agreement