Science
Absorbs 99.98% of light, surpassing the ultimate? "Supreme" dark sheet, developed by AIST
A research group of the National Institute of Advanced Industrial Science and Technology (AIST) and the National Institutes for Quantum and Radiological Science and Technology have developed a "supreme dark sheet" that absorbs more than 99.98% of visible light and reflects almost nothing. Uses the resin of "cashew oil", a polyphenol extracted from cashew nut shells. It is blacker than the "ultimate" sheet developed by the same group in 2019, has good durability, and is the blackest in the world for touchable materials.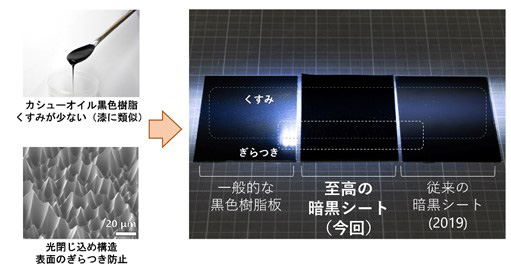 Black materials with low reflectance are used in many fields such as decoration, video, solar energy utilization, and optical sensors, and excellent materials are eagerly desired. Cylindrical substances made of carbon, materials made of carbon nanotubes, absorb more than 99.9% of all light and are said to be the best in the world.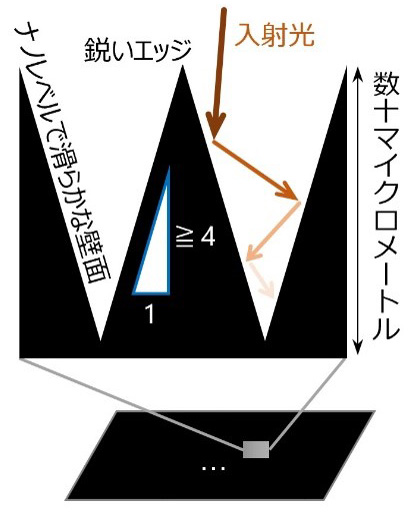 The research group announced the "ultimate" dark sheet in 2019. This is made by irradiating ion beams from an accelerator to create fine cone-shaped unevenness in silicone rubber mixed with carbon black pigment, and has a structure in which light is confined. Absorbs more than 99.5% of ultraviolet rays, visible light and infrared rays, especially more than 99.9% of thermal infrared rays. Although it suppresses the glare caused by reflections and has excellent durability, it has the drawback of causing dullness due to scattering generated from the inside of the material.
 Further investigation aimed at achieving 99.9% in visible light revealed that the cause of the "ultimate" dullness of the sheet was scattering by the carbon black pigment. Agglomerates of pigment particles were formed, making it easy to scatter light. As a result of searching for a material with less scattering, we discovered that cashew oil black resin is suitable. Paint with cashew oil is used as a substitute for lacquer.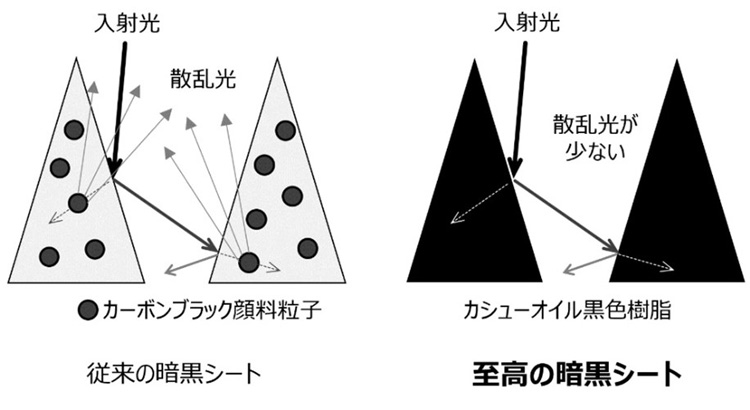 The film of cashew oil resin is black even without the addition of pigments and has very little dullness. In addition to the light confinement structure used in the "ultimate" sheet, by using this, we have developed a "supreme" sheet that absorbs more than 99.98% of visible light. It does not break even when touched, and is said to be highly practical.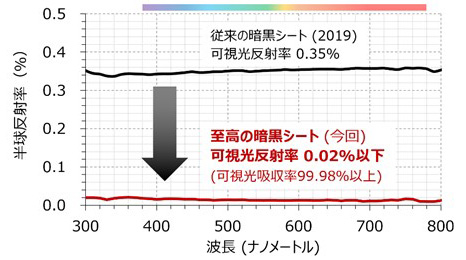 In addition to the precise measurement of light that AIST is researching, it may be used to prevent irregular reflection inside optical devices such as camera lens barrels, and inside headsets for VR (virtual reality). It is said that the human eye is sensitive to blackness, and there is also hope that it will be possible to express subtle gradations on printed matter and screens.
 At the press conference, he showed that while the light of the laser pointer shining on the ultimate seat can be seen with the naked eye, the supreme seat cannot be seen at all. Kuniaki Amemiya, Group Leader of the Applied Optical Measurement Research Group at AIST, said, "We've done everything we can to reduce the reflectance. From now on, the main thing is to consider how to put it into practical use, including the cost. It would be great if we could make licensing agreements with manufacturers and transfer the technology." Currently, it is 10 cm square, but we are considering creating a larger size.
 The results were published in the US scientific journal "Science Advances" on the 14th of last month, and were announced by AIST and QST on the 18th.